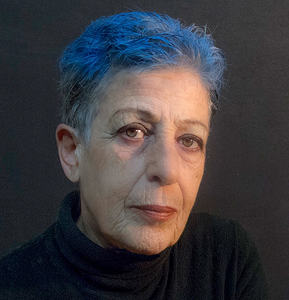 BIO
Eleni Mylonas is a multidisciplinary artist, maintaining a studio in New York and Athens. She is a Fulbright scholar and holds a Master's degree from the Graduate School of Journalism of Columbia University and a degree in photography from the University of London.
Eleni Mylonas has had solo exhibitions at Zoumboulakis Galleries, Athens (2022, 1985, 1982), MoMA PS1 in New York (1986), the BENAKI Museum in Athens (2014), Ileana Tounta Contemporary Art Center, Athens (2000, 1996, 1991), Francoise Heitsch Gallery in Munich (2014), the Foundation for Hellenic Culture in New York (2000) and A.rt R.esources T.ransfer in New York (2002, 2000).
Mylona's work is in several public and private collections including EMST-Museum of Contemporary Art, Athens; MOMus-Museums Thessaloniki; Ellis Island Museum, New York; Columbia University Art Properties, Athens College, DESTE Foundation, Mamidakis Foundation, Florica Kyriakopoulos Collection and Y. Yannopoulos Collection among others. Several sections of her photographic archive are embedded at MoMA's Archives platform MAID. Her work was featured in the first Athens Biennale "Destroy Athens" (2011), the Thessaloniki Biennale (2022, 2017), Skopje Museum of Contemporary Art (2019), "Canakkale Walk" in Osnabrück, Germany (2017), DUMBO Film Festival (2023) and Vaasa Film Festival (2022).
Eleni Mylonas' work is most recently focusing on video and performance.
*The photo is released under the free licence cc-by-sa-4.0