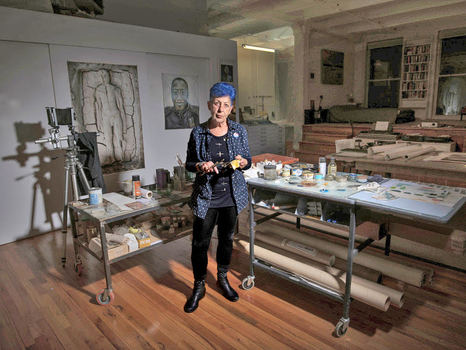 © photo by Nacho Guevara
I was born and raised in Greece, by location and history the convergence of East and West. I came to New York to study journalism and it is here that I consolidated my identity as an artist. I pursue my need to understand, to look directly where others turn away. The necessity to witness is a key to my work and my investigations. I seek to multiply that vibe and follow the ripples going out to stir new waters changing perspectives, points of view and visions.
I strive to create bridges between different realities. I embark upon each adventure stimulated by an event or an experience that fires up my curiosity and my emotions that I follow and explore. I meet the challenge via any medium at hand, be it photography, sculpture, painting, video, performance or a combination of the above. My art practice is a journey from the outside taken in, filtered, and redirected back out via the work. It is a process of self-discovery and a vehicle of communication. The resulting works are as revealing to me as they may be to the viewer.